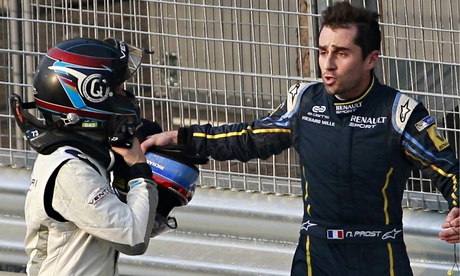 Beijing race turns on collision between Heidfeld and Prost
Lucas di Grassi benefits to win inaugural Formula E event
Prost accepts blame for final-lap crash
The advent of electronic motor racing may herald an era of quieter cars, but the inaugural Formula E event nonetheless ended with a resounding bang as Nick Heidfelds car was involved in a remarkable final-lap collision in Beijing. As he attempted to pass Nicolas Prost, Heidfeld was clipped by the Frenchman and sent careering from the track, his vehicle flipping into a barrier.
As the Germans team looked on in dismay, the car landed upside down before the driver clambered out unscathed. The aggrieved Heidfeld was subsequently confronted by an equally displeased Prost. Having led the field for much of the 25-lap race, Prost, son of the four-time former Formula One champion Alain Prost, had been on course to claim the points only for the final-lap collision to hand victory to the Brazilian driver Lucas di Grassi.
…
Read More